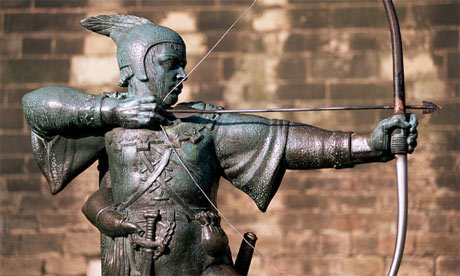 Robin Hood Statue, Nottingham
source
Happy weekend! I haven't been posting lately, but I've been busy! Day job is crazy busy and full of exciting projects, and I'm really zeroing in on the direction I want to take my Etsy store and this blog. More on this in the future, but I will say, I think just jumping out there and starting even when you are not sure where it will lead you is a wonderful thing. I love the way things seem to be falling into place this year. Are you experiencing this as well?
Today I'm going to be spending time creating some unique Art Deco designs (hint), but I do want to take a moment to say thank you to Canadian artist Meghann at Little Studio for a very generous feature of BelleCosette on her blog. To see the feature, click
here
, and be sure to browse the rest of her blog and her Etsy store, I know you will enjoy meeting her!
Thank you also to Etsy member
Anna Herrmann
for including my Leopard Cuff Bracelet in her most recent
Treasury
. She's a college student with an amazing eye for vintage and retro finds. Be sure to get in her circle!